Advanced Driver Assistance Systems

July 24, 2022

Blog Admin

Leave a reply
Post Comment
Advanced Driver Assistance Systems
This is a category of technology which is being imparted to the every new car.This system ensures that you know when a vehicle is in your blind spot, can keep you a safe distance from the car in front of you, and can keep your vehicle from drifting into another lane. One of the first examples of an Advanced Driver Assistance System (ADAS) was anti-lock brakes. These are now standard equipment on every new car. In modern vehicles, there are now dozens of these systems.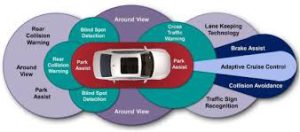 These advanced driver assist systems often come in bundled safety suites. Some examples are Toyota Safety Sense, Subaru EyeSight, Ford CoPilot360, Honda Sensing, and Nissan Safety Shield 360. Even if a model you are shopping for doesn't have ADAS as a bundle or suite of features, many automakers sell them as standalone options or include them as part of a specific trim level
Adaptive Cruise Control
Adaptive control is similar to regular cruise control. Adaptive cruise control also keeps your vehicle at a set speed, additionally it slows down or accelerates to keep a safe distance from the car in front of you.
Reverse Brake Assist
If this system senses an object behind your vehicle while backing up, reverse brake assist can use automatic emergency braking to stop your car, avoiding a collision.
Forward Collision Warning
Forward collision warning (FCW) senses if you are at risk of a potential collision with the vehicle ahead of you. Some systems can sense if there is a pending collision a few vehicles ahead. FCW can make sounds, flash display lights, or provide a tactile change to the way the steering wheel or brake pedal feels. Forward collision avoidance uses the FCW sensors and, if the driver doesn't react quickly enough, adds automatic emergency braking to stop the vehicle.
Lane-Keep Assist
If your vehicle does start to drift into another lane, lane-keep assist uses steering to keep your car in the lane. If your vehicle drifts into oncoming traffic, some systems will also use steering to get back onto the correct side of the road.
Blind-Spot Alert
This uses sensors on the vehicle to detect if there is a vehicle in your blind spot. It signals that there's a vehicle there with an alert on your side mirrors. Some pickup trucks also adopt a blind-spot alert that takes into account vehicles that are next to either side of your trailer while you tow.
Cross-Traffic Alerts
If you are trying to back out of a parking space and you can't see around the vehicles on either side, rear cross-traffic alert will let you know if a vehicle is approaching. This system often uses radar units on the vehicle to detect cross traffic. In some cases, you'll hear an alert and see arrows on the center screen that show from which direction the other car is coming. Front cross-traffic alert is especially handy when you're exiting a blind alley or driveway. Some newer systems also prevent you from turning left across traffic if it senses a vehicle is in your path.
Study Car-world updates @ http://www.biggaddi.com/blog/cars/
To buy Used EVs, click http://www.biggaddi.com/used-cars
To study about Investments click chanakyanipothi.com